Our bike rental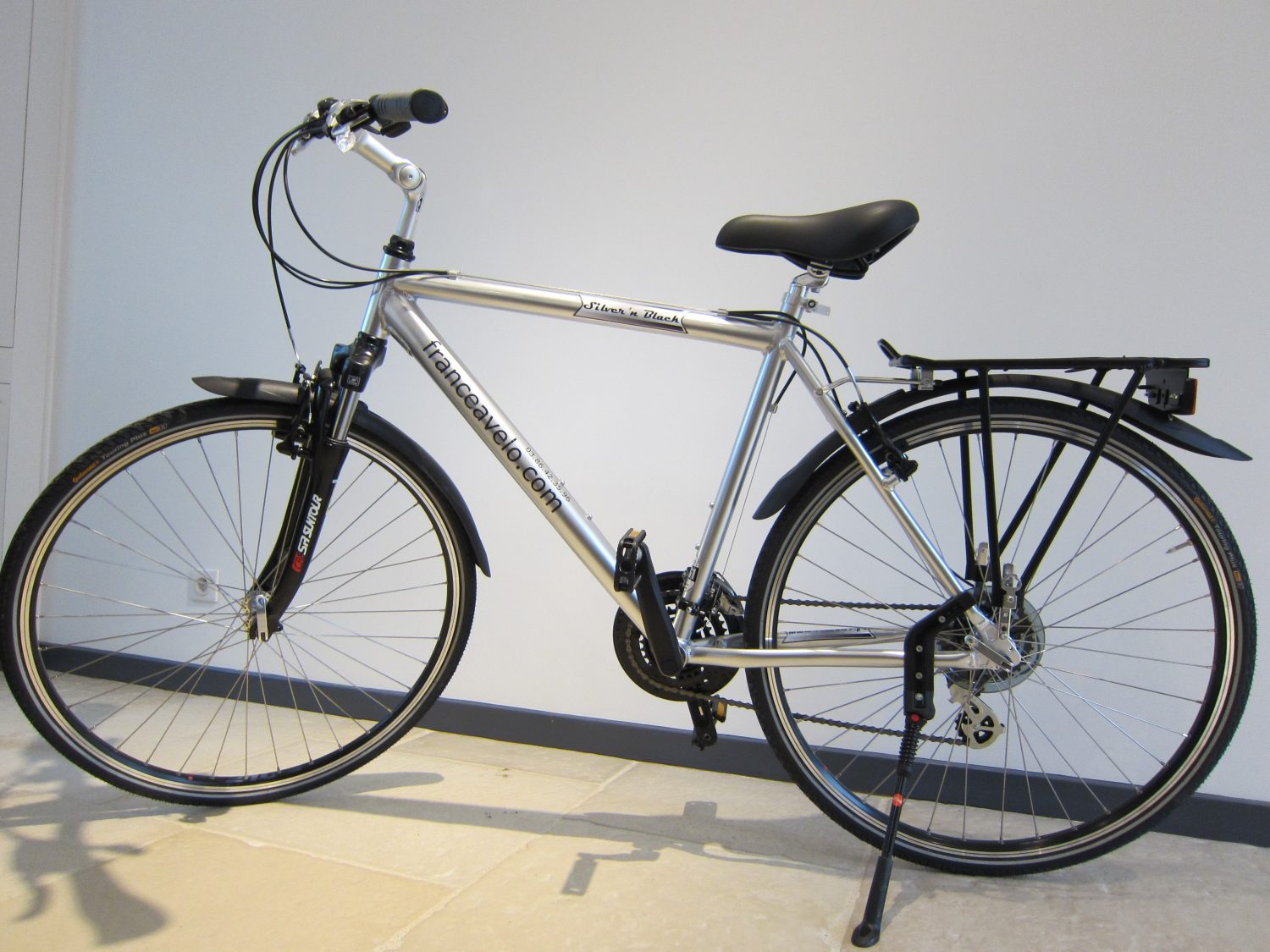 Our hybrid bikes
Our 'Silver 'n Black' tourer bike is perfect for all sizes and shapes, offering flexibility for different riding styles.
Our bikes are designed and build by hand by a small family business in Burgundy. We worked together to create the perfect hybrid bike for our clients and the choice of bike components were picked for their reliability and their availability wherever you are in Europe.
We worked on flexibility and adaptability, deciding on an adjustable quill handlebar stem as opposed to the A-head type. This gives extra length and angle to the position of the handlebars.
To reduce the risk of punctures our wheels are double rimmed and the Continental tyres are puncture-resistant. Add to this a Shimano system for gearing and braking, a strong pannier rack and a kick-stand that can cope with hundreds of kicks.
Then we put in the mix a comfy gel saddle on a long seat post with a quick-release collar, rapid-fire gear controls and a helpful 'granny ring' for the hills – the special touches that together make our bikes pretty amazing.
We provide just two sizes of male frame and one female frame. We use quill systems on the handlebar stem which are easily adjustable and flexible for varying heights. In addition the handlebar stem/potence is adjustable for different riding styles and the seat post is of a length which will give you maximum height range – from 4'11 to 6'2.
Hybrid bike Spec Sheet
Frame 6061 Aluminium Silver brushed in two sizes male and one size female
Double-rimmed wheels
Continental puncture-resistant tyres
Quality inner tubes and rim tape
Adjustable quill handlebar stem
Suntour front Suspension forks
Shimano V-brake with effective 2-finger levers
Shimano 21 speed gearing with easy to operate rapid-fire controls
Robust kick-stand to support a 25kg load
Flexible 'Beavertail' mudguards
Robust pannier rack that takes a 25kg load
Comfy gel saddle
Quick release seat adjustment
Ergonomic hand grips
Bell and rear reflector
All hybrid bikes are outfitted with:
Helmets, (one size fits all)
Computer
Handlebar bag with map reader
Back panniers
Puncture kit: Tire levers, spare inner tube, key for bike adjustments, patch kit included
Lock included
Frame pump included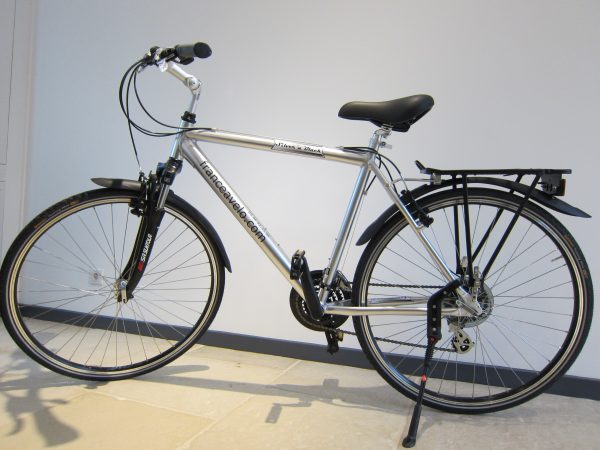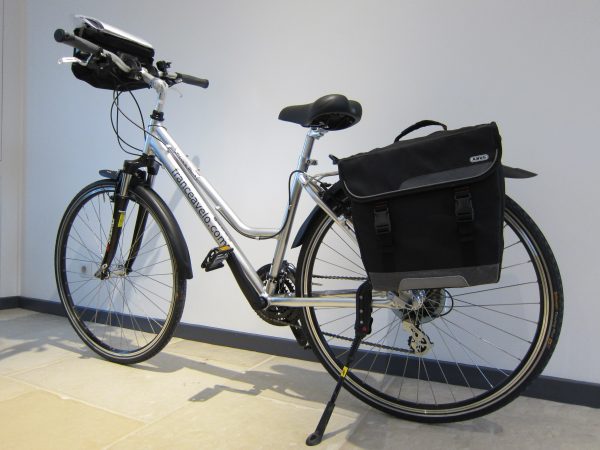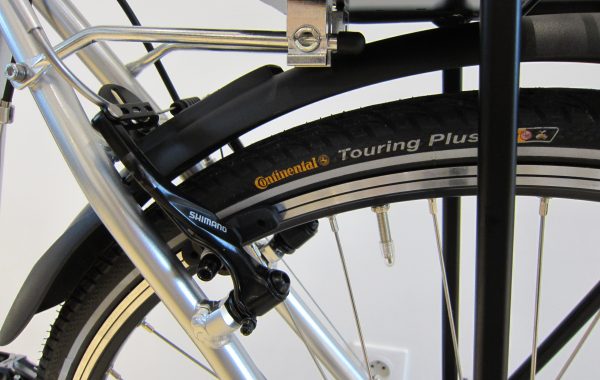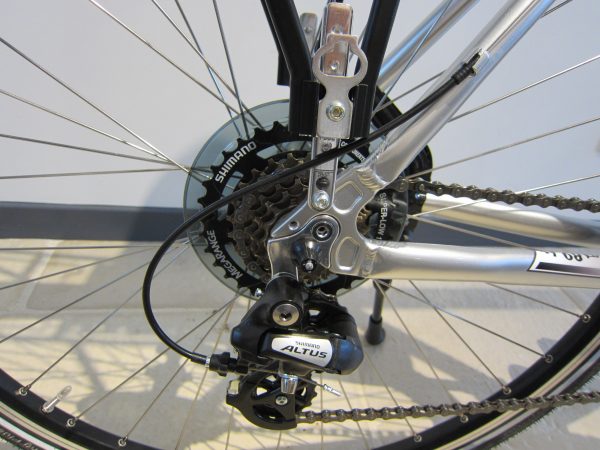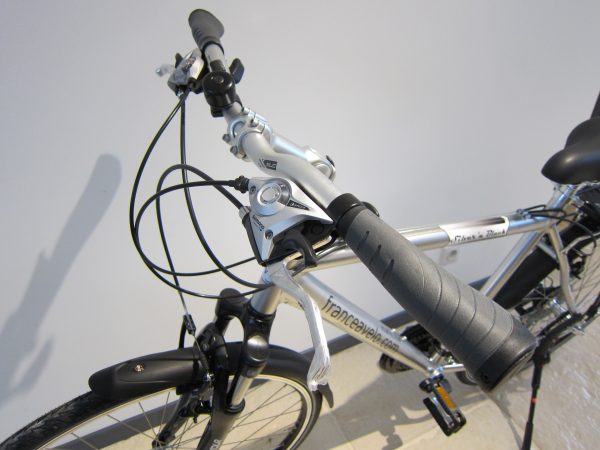 Our E-bikes
VELODEVILLE CEB 500
Year:                                     2018
Gear:                                   8 speed SHIMANO Nexus + HS11
Engine:                                BOSCH Akku 500 Wh  active Plus
Loading:                              3 hours
Frame:                                Aluminium
Material:
– double back panniers (13 l each)
– front bag with map holder
– Repair kit with pump
– Lock with code
– Charger
– Kilometer counter
Caution on site :           250,00 € (Credit Card Nummer)